Cutting edge digital dermoscopy!
Well beyond a simple video dermoscope, the C-Cube 3 is the only device to optimally combine innovation, power and lightness. The outcome of ten years of R&D, the C-Cube 3 incorporates TrueColors patented technology. This revolutionary technology optimally renders the full spectrum of the skin's natural colours, allowing you to confidently make your diagnoses.
You are able to monitor changes in the colour and size of skin lesions accurately and in detail.
The advantages of an ultra-high resolution fixed lens
As the only dermoscope to offer a fixed focus lens, the C-Cube guarantees:
• Comparable images of the same size (2.82cm²).
• Minutely detailed observation of skin lesions of up to 19mm in diameter.
• An instantly sharp image across the entire surface area (no waiting for adjustment).
• Certified metric measurements directly on the image.
The C-Cube offers you the assurance of the greatest precision for the most high-risk skin lesions.
At the cutting edge of technology, the C-Cube 3 dermoscope offers you, as a worldwide exclusivity:
• 55 Lpmm resolution;
• Unique UHD video streaming.
Unparalleled in quality, this video streaming transcribes what the eye sees in real time. So, for the very first time, you're able to work without your traditional dermatoscope.
Accurate, more detailed images
The C-Cube 3 system stands apart thanks to its totally innovative True Color standardisation process, which offers:
– An image that remains true to what the eye sees, with unique colour replicability
– Accurate monitoring given the full control offered on the standardisation of your before and after images.
Perfection in just one click
Fully exclusive and patented, our technology guarantees dermoscopic images that:
• Have no glare
• Are sharp
• Are bright and homogeneous
• Have a constant field of view
• Have no chromatic distortions (no colour aberrations around the edges of the image)
Now you can finally immerse yourself fully in your work! Each device is individually set up in our workshops, so you no longer need to make all the tedious adjustments yourself (rendering, lighting and zoom functions) – you can produce the very best dermoscopic images in just one click!
Easy to use and user-friendly
Weighing just 410g, our device is the lightest of all high-end video dermoscopes. This makes it much more enjoyable to use.
With only two buttons, you can learn how to use the C-Cube in just a few minutes.
Its use can be summed up in three words:
• Connect
• Observe
• Save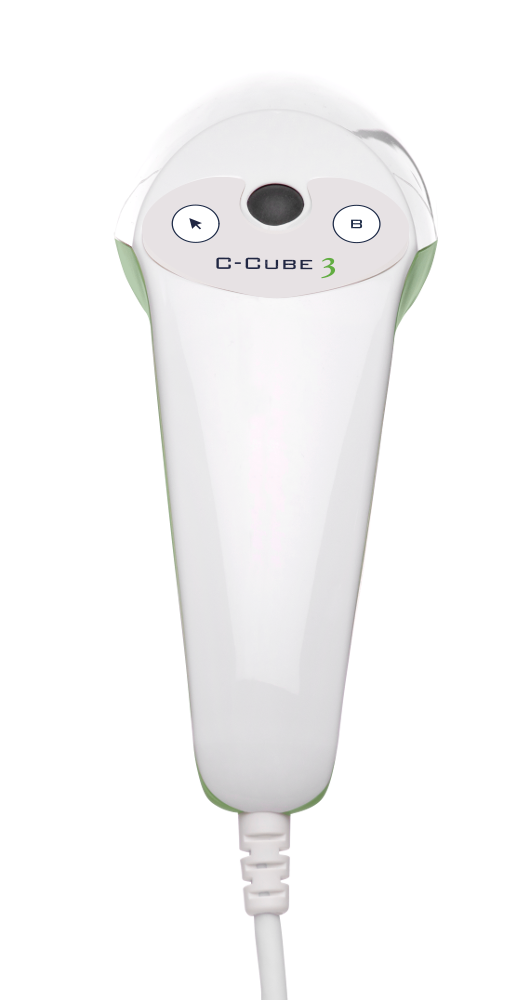 The C-Cube 3 has successfully passed the following tests:
• Electrical safety
• Heat resistance
• Falls
• Biocompatibility
These tests guarantee quality and durability. In addition, we have selected the most modern medical materials that have been researched to optimally combine durability, sturdiness and lightness.
Its USB 3.0 connection simplifies installation of the C-Cube dermoscope. This safe, standard connection can be used on any PC, tablet or laptop.
You are free to revamp your practice by upgrading your computer independently of your C-Cube, while you continuously benefit from the latest technological advances (size and thinness of screens, power, etc.).