C-CUBE DERMATOLOGY SOFTWARE
Offering comprehensive functionality, speed and efficiency, C-Cube Dermatology software is the ideal imaging platform for your practice.
Conscious of the fact that your time is precious, we have designed the most effective software on the market in partnership with dermatologists. The automation of each step in the consultation process saves you time on a daily basis, freeing you from performing repetitive tasks.
The C-Cube dermatology software is the only one that can read Vital card.
So you create or select a patient file in a single gesture.
Thanks to this exclusivity you avoid:
– The search for a patient in your patient's list
– Input errors
– To make mistakes about the selection of a patient file
Stop transferring and renaming your images and save time.
They are automatically saved in the relevant patient file.
Seamless, professional peer consultation
Developed by dermatologists, C-Cube Dermatology software automatically generates examination or skin lesion reports. This enables you to manage peer consultation with general practitioners or surgeons in just one click (exclusive feature). Compatible with your patient software, you can easily export these items into your patient files.
Your clinical illustrations reports
Acne, rosacea , seborrhoeic dermatitis, psoriasis, eczema, hives, Verneuil's disease, mycoses, wounds…
Your dermoscopy illustrations reports
Melanoma, carcinoma, actinic keratosis, scalp, scabies…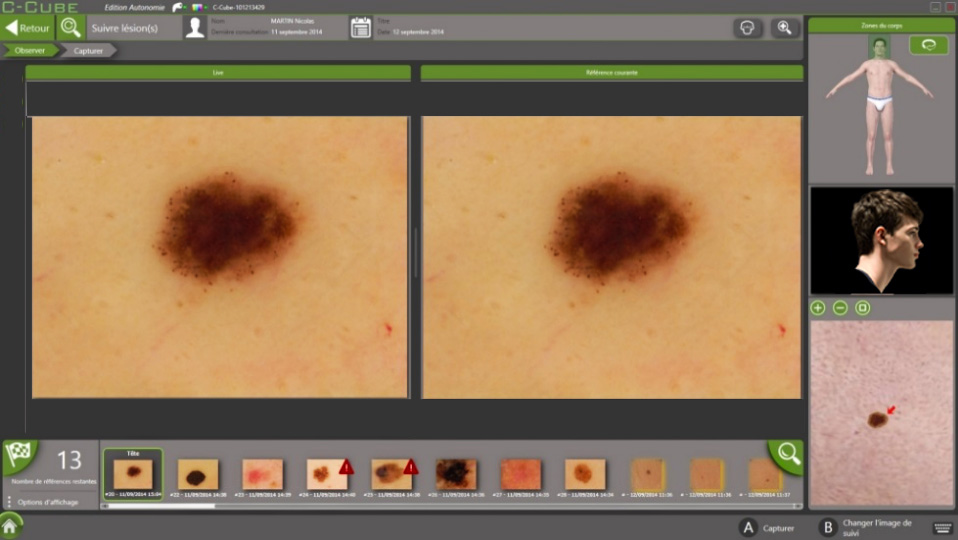 Monitor your patients with ease
Drawing on the tool's automatic monitoring mode, you can instantly view skin lesions already photographed at a prior consultation.
Instantly access the patient's full history in order to detect the slightest skin changes as early as possible, to avoid unnecessary biopsies.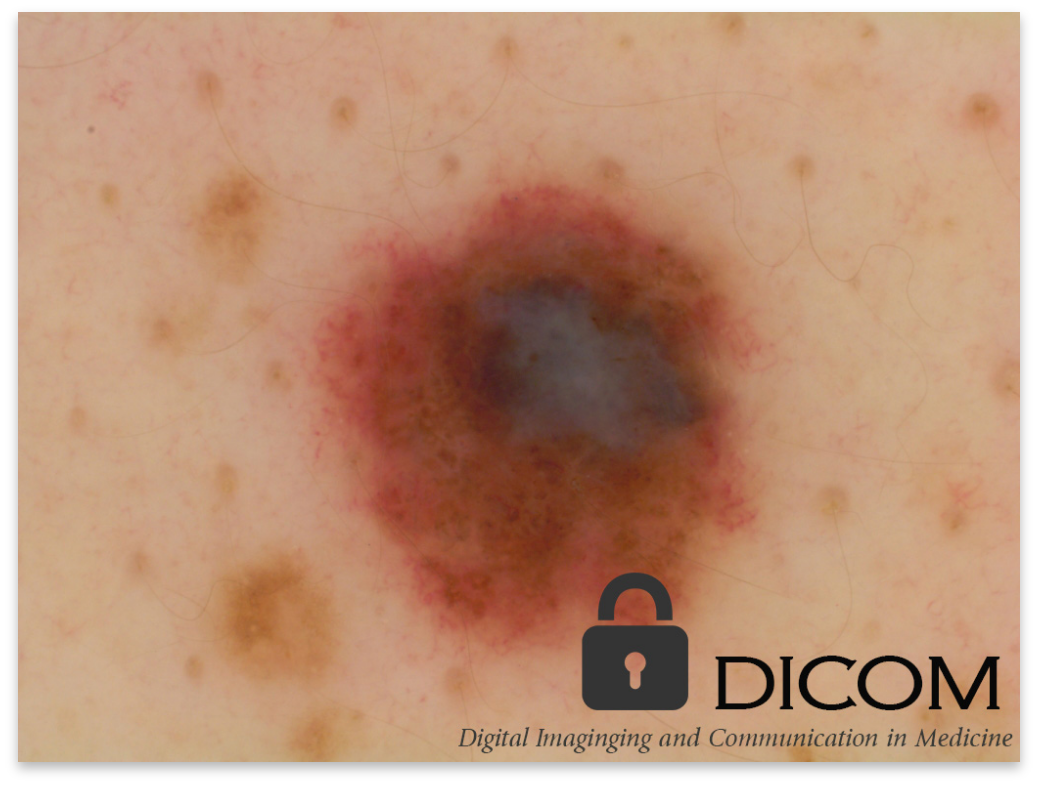 Manage your data more confidently
C-Cube Dermatology software automatically records and encrypts all scanned images in DICOM medical format (the international medical imaging standard).
This format ensures that your patient data remains anonymous.
The C-Cube is Mac and PC compatible
Work with your equipment in your preferred environment
Initially designed only for Windows-PC architectures, the C-Cube 2 dermoscope and its associated software is now compatible with most Mac architectures using Boot Camp (Apple's tool for integrating Windows on Mac architectures).
It makes all the difference
Protect your freedom!
C-Cube Dermatology software is the only software program able to process images from different sources. Whether these images come from your C-Cube 2, camera or smartphone, they are all transferred and saved instantly.
Benefit from greater freedom of movement during examinations using our wireless clinical photo technology based on our smartphone apps (Android and iPhone) and our Wi-Fi enabled SD card!
The ultra-high resolution of these images allows you to significantly reduce the number of scans required at each examination.
Confidently delegate tasks
You can manage user accounts and define different levels of user access for each member at your practice.
To allow you to focus fully on detecting suspicious lesions and diagnosing them, you can, for example, entrust the following tasks to your employees:
• Patient arrivals
• Producing clinical and dermoscopic images
• Skin lesion mapping
Enter the touchscreen age
Its entirely touch-sensitive design does away with the need for a keyboard or mouse.
Selecting a patient, or performing a scan or measurement becomes a simple, quick, intuitive process.
Enjoy using the intuitive interface that can be operated with a single finger or directly through the C-Cube dermoscope.
Pushed to the limit, C-Cube dermatology software delivers unparalleled performance.
Its cutting-edge functionalities mean it is the only device that enables you to perform a video dermascopy examination in few minutes!
"A demonstration is worth a thousand words". Request a personalised demonstration at your practice.